Here is a detailed walk-through guide curated by Lena and Sonia, that takes you on a journey of a lifetime. We have created this experience to embody the perfect escape from the hustle and bustle of daily life, allowing you to indulge in a "slow life" style of vacation that will leave you feeling refreshed and recharged. This is not about being lazy but rather about nurturing your mind, body, and soul. Discover valuable skills and self-care habits while being surrounded by breathtaking views and embracing a light and carefree mindset, all thanks to our well balanced schedule.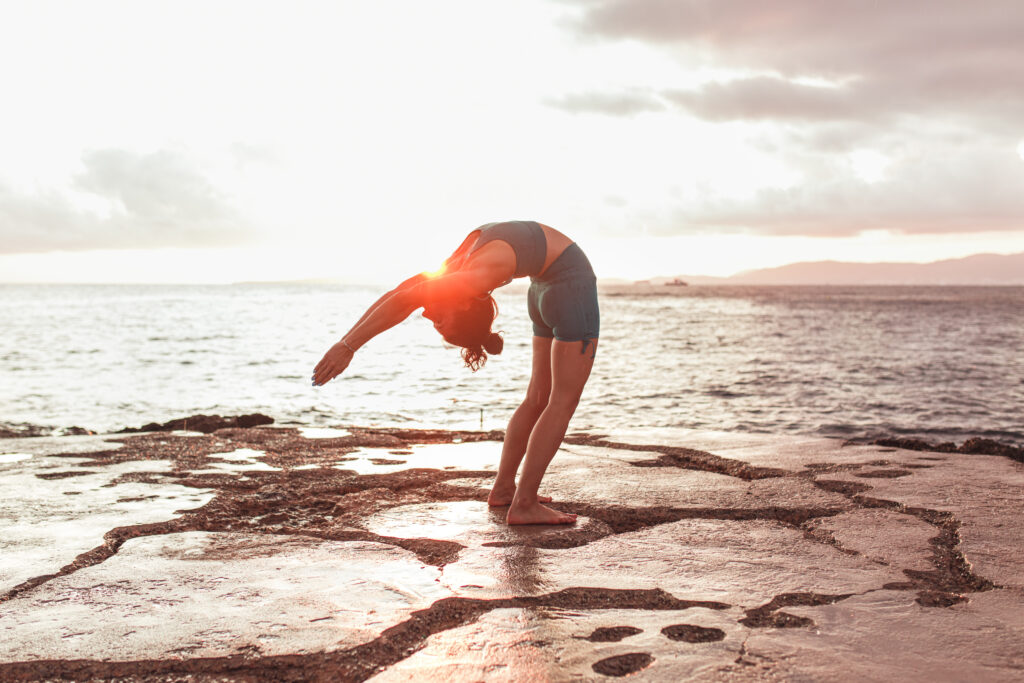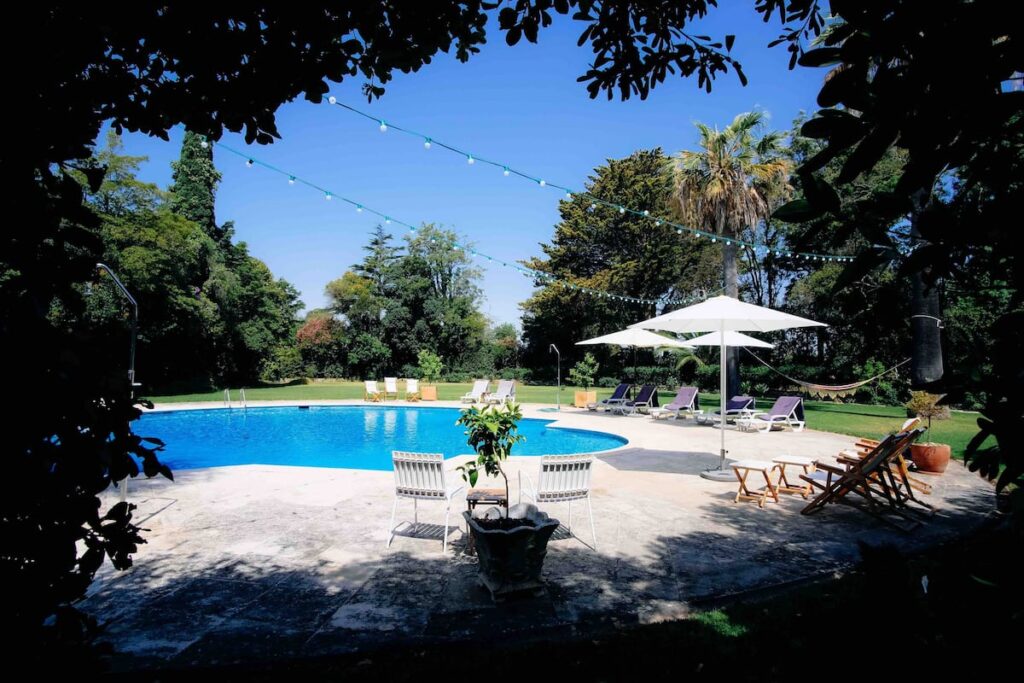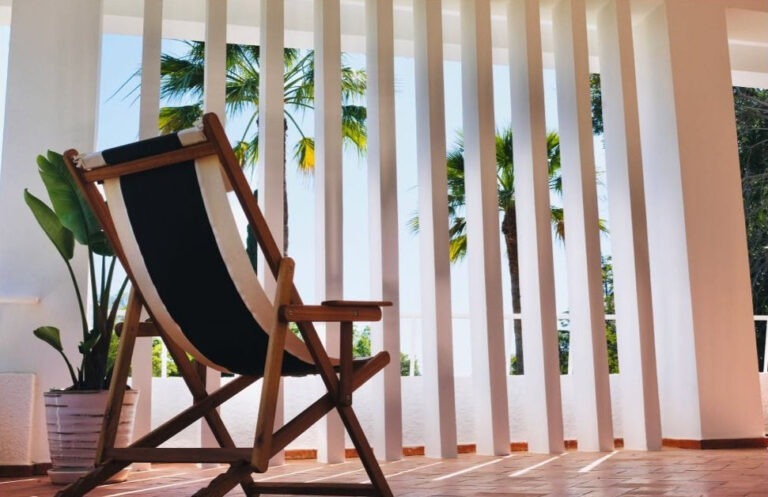 Villa Pausa is a family legacy, built in the 1970s by a Portuguese family's grandfather as a vacation home.
It was a labor of love – the blooming garden seemed to come out of a fairytale, the seashell-shaped pool with a wonderful trampoline was perfect for relaxation and fun, the orchard that bestowed delicious fruits, fragrant roses, and incredibly colorful flowers.
The interior of the villa is spacious, airy and bright, with large windows that let in plenty of natural light. The villa has several cozy bedrooms, a fully equipped kitchen, a spacious living room and dining area, a library with a fire place, as well as a large terrace.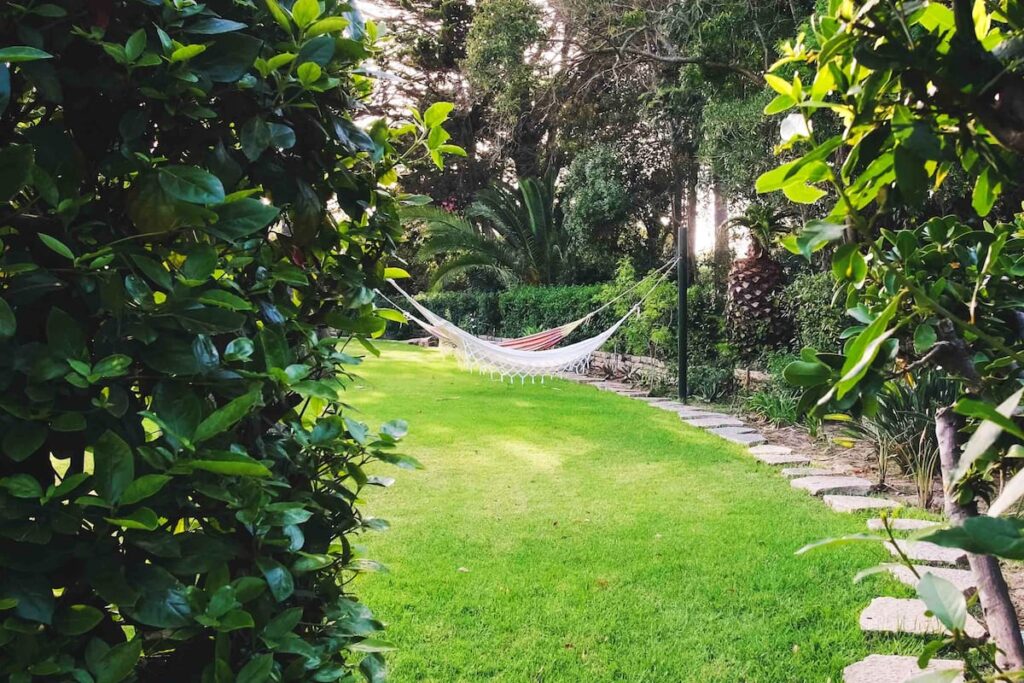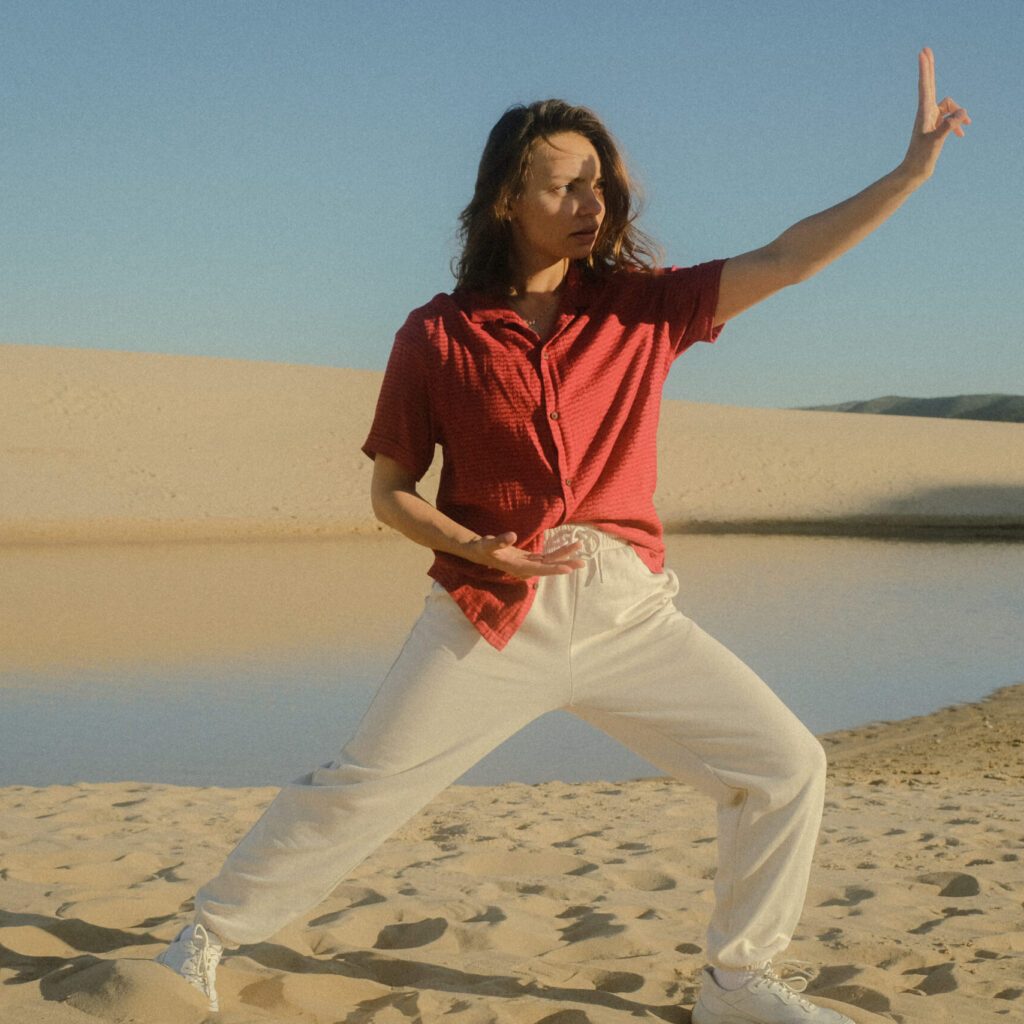 Lena is a skilled and passionate instructor of qigong, tai chi, and yin yoga, as well as a certified massage therapist. At the age of 15, Lena began studying qigong and tai chi with a teacher in Ukraine, which sparked her passion for these ancient practices. Fascinated by Eastern philosophy, she moved to China after finishing high school, where she studied 4,5 years, delving into in the essence of Eastern practices. Her curiosity about the human body brought her to Poland, where she spent the next two years studying therapeutic massage and FDM manual therapy. With a deep understanding of the physiological and psychological aspects of the human body, Lena's practice focuses on the interconnectedness of the body-mind-spirit system, working to improve and balance overall well-being. Her practice is a journey of self-discovery and transformation through her holistic and mindful approach to movement and healing.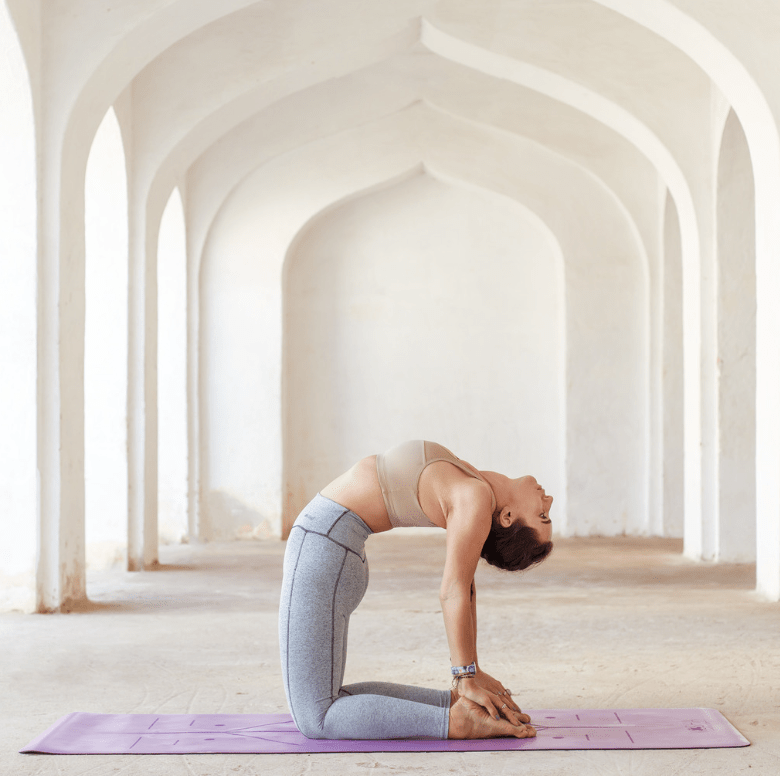 Sonia is a daily practitioner of ashtanga yoga – dynamic style of yoga, originating from Mysore where she lived for three years. She was actively practicing and studying yoga under selected teachers since 2017. After accomplishing 500 hrs RYT hatha and ashtanga Yoga Teacher Training Course according to the the standard of Yoga Alliance Sonia started teaching locally in India and after relocating – in Poland. She continues to gradually deepen the immense subject of yoga. She also holds an online space for her regular students who wish to explore this subject together and keep the consistency of their practice. Besides her daily personal practice, Sonia is also professionally engaged in organizing recurrent destination workshops and retreats. I deeply believe this is the most efficient and sustainable way of developing and cultivating one's unique potential. Except for yoga, photography and visual arts play a significant role in my life. I find mandalas fascinating and the way they harmoniously please viewers' perception is exceptional.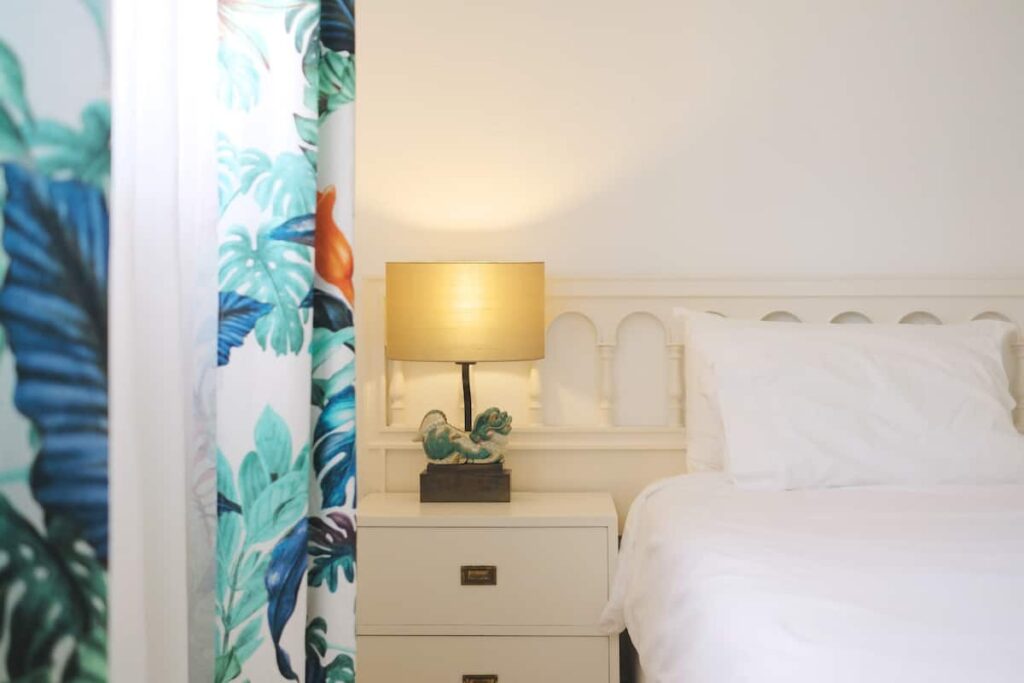 1700 euros - private double room
(price for 2 people)

All inclusive**

950 euros - place in a double room
(price per person )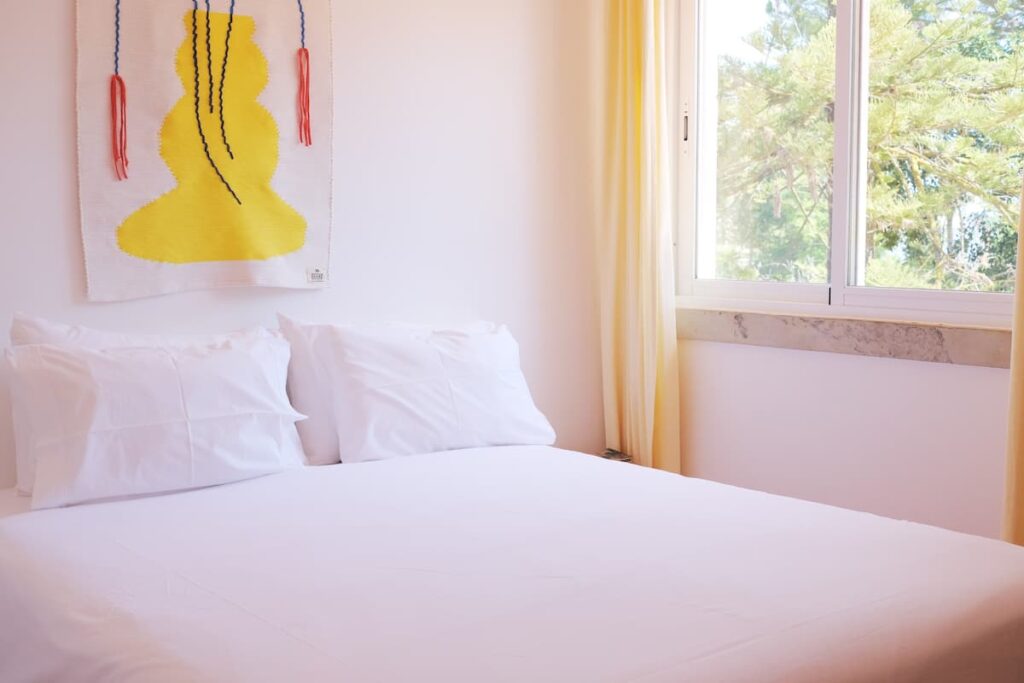 1200 euros - private single room
(price per person )

All inclusive **
*DEPOSIT OF 1000PLN (210 EURO) IS REQUIRED IN ORDER TO BOOK YOUR SPOT
**THE PRICE DOES NOT INCLUDE TRANSPORT COSTS (AIR TICKETS + AIRPORT TRANSFER)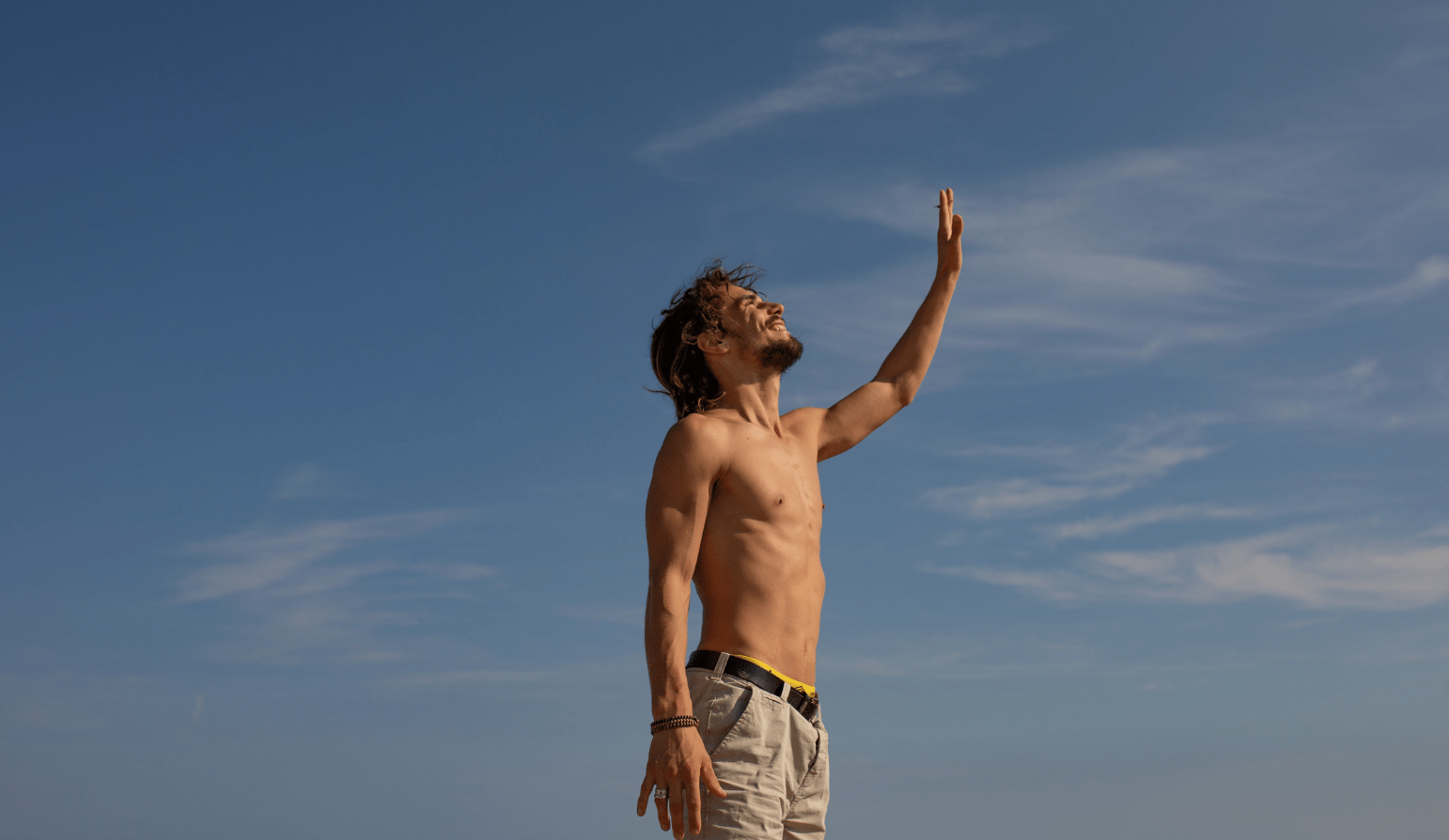 "We look forward to share our adventure and we can't wait to begin our journey together!"
SONIA
email: joga@soniafrydrych.art
whatsapp +48 572 816 839
tel. 690 615 601

LENA
email: info@mychiflow.com
whatsapp +48 733 872 532

Algarve is a region located in the most southern part of the Portugal.
It is renowned for it's beautiful beaches, crystal-clear blue waters, and rugged coastline.
We are delighted that you have decided to join us, and we look forward to sharing a rejuvenating holiday experience together. Our aim is to boost your energy levels and reconnect you with your inner self. To ensure that your stay with us is smooth and enjoyable, we have put together a comprehensive list of frequently asked questions. This will give you all the necessary information you need to make the most out of your stay.
Is prior experience in yoga and Tai Chi needed?
Prior experience in yoga and Tai Chi is not necessary for our classes. Our experienced teachers will provide instructions and guidance to help you practice safely and effectively. These practices require attention, precision, and awareness of your body's limits, but even if you have no prior experience, you can follow along and benefit from the classes by simply listening to the teacher's instructions and tuning into your own body's signals. If you have any serious illnesses or concerns, we recommend consulting with a doctor before attending our classes and letting us know of any contraindications. Your safety and well-being are our top priorities.
During the day you will have an hour or two to yourself to digest the information and experience you have received, relax or take a nap. The daily routine is designed to help you get the most out of your stay with us. It begins with an invigorating practice of sun salutations and dynamic yoga at 8 am, which will awaken your body and mind. After breakfast, we will continue with a series of workshops and classes until mid-afternoon. You will have time to rest and recharge before the evening session, which will include a gentle practice of yoga Nidra and a meditation session with Tibetan bowls to soothe your nervous system and promote deep relaxation.
From Faro airport there are buses and urban rail, you can get there with transfers, and the duration of the entire journey is about 3 hours. You can take an uber or a taxi from a selected carrier, the cost is approx. 50-60€
What's included in the price?

The entire cost of the trip covers accommodation in the room and meals of your choice, daily yoga, meditation, qi gong, tai chi, automassage class and a boat trip. The photo session and the fascial massage is optional and is not included in the basic fee. The price does not include the cost of air tickets or transfer from/to the airport.
When packing for your trip, keep in mind the activities we will be doing together. It's important to bring several sets of comfortable clothes for yoga and loose clothes for Tai Chi. Don't forget to pack a swimsuit, a warm cardigan, and some cozy socks, as well as comfortable flip-flops. Even though the Algarve region is known for the most sunny days, temperatures can drop to 13 degrees in the evenings, and the floors in the villa can be chilly, so it's a good idea to pack some warm clothing as well. And of course, be sure to bring sunscreen to protect your skin from the sun, and some extra clothing in case of rainy weather.
Our food offer is addressed to people looking for a healthy diet, allergen-free. We provide our students with full vegetarian meals and unlimited access to mineral water. Each morning before the practice, we will start with a hot infusion of ginger, turmeric and black pepper, prepared according to Ayurvedic principles. After the practice, a rich vegetarian breakfast will be waiting for us, and for dinner we will be treated to fresh seasonal products. If you have any special dietary requirements or requests, please feel free to contact us by email. Moreover, we have freshly brewed coffee from an Italian coffee pot and a selection of herbal infusions available throughout the day. If you require any additional items, there is a well-stocked supermarket conveniently located nearby.
Should i bring MY own yoga mat?
Using a borrowed mat is just as fun as walking in someone else's training shoes. It may help once, but in the long run it is neither pleasant nor hygienic. Therefore, we encourage you to bring your own (there may be a thinner travel version), bought on site. Although we will provide you with yoga equipment if necessary. Please let us know in advance.
Welcome to the final page of our guide, where we offer you a glimpse into the world of our program. We are excited to offer you an unforgettable experience filled with active relaxation, mindfulness, and self-development. To help you get the most out of your stay, we have created a sample schedule that will give you an idea of what to expect each day. 
This schedule is only a guide and may be adjusted slightly depending on the needs and preferences of our participants, as well as the weather conditions. We hope that this sample schedule will help you to imagine better the wonderful experience that awaits you.
14:00 Arrival and accommodation
18:00 Welcome dinner
8:00 Morning yoga
9:00 Breakfast
10:30 Taichi
11:30 Farewell
8:00 Yoga practice that will awaken and energize your body
9:30 Brunch
12:30 Qigong/self-massage workshop or excursion
18:00 Dinner
20:30 Yoga or Taichi classes, meditation
21:30 Sound bath with Tibetan bowls, to end the day in peace and tranquility